What's on the nightstand this week? Well, it's a couple of my most favorite books that's for sure. I initially read this entire series last summer thanks to the Hernando Public Library. Since then, I've been collecting and re-reading them.
I first introduced this series on the blog several weeks back with
Them
Bones
. Now I've made my way back through the first four books,
Buried

Bones

,

Splintered

Bones
, and
Crossed
Bones
.

I love them all, but this second time around Splintered Bones is holding my most favorite position right now because its just so dang funny! Tinkie especially. There are several laugh-out-loud parts for Sarah Booth's friends, Tinkie and CeCe. Carolyn's writing is so vivid, so purely southern I can see those two women in my mind clear as day.
With
Buried Bones
, Sarah Booth is reveling in the fact that she's saved her family home from the auction block but is also mucking her way through the holidays all alone. Then comes the perfect social occasion: Lawrence Ambrose's dinner party. Unfortunately when Sarah Booth discovers a bloody corpse things take an unexpected turn. Most people just help load the dishwasher or wipe up spilled drinks after a party but Sarah Booth goes digging for answers. Oddly enough, most of the folks with answers are six feet under, or soon will be. And for Sarah Booth, if she's not careful she could be pushing up daisy's right beside them.
In
Splintered
Bones
, Sarah Booth is hired by her friend, Eulalee McBride, to prove her no-account husband earned the stomping he finally got, which also means Eulalee has confessed to his murder. Having your client confess where the Sheriff can hear isn't the best way for Sarah Booth to start an investigation. But as the song says, some times a wife hitting, gambling, piece-o-crap man like that just needs to die. As Sarah Booth puts together the pieces of the case, a killer is preparing to strike again. This time it could send one late-blooming sleuth into a early grave.
In
Crossed Bones
, Sarah Booth is beginning to feel the heat. That is the heat of finding her way around a handsome businessman, the waffling and still married Sheriff and a steamy blues player who might have notions of being more than her client. Before it's all said and done, Sarah is caught between her desire for the truth and how that truth will affect her small southern town. But most of all, she might get caught up in how the truth will put her life on the line.
This series is one of the best I've read and I can't say enough good things about Ms. Carolyn. She's a true southern woman, a lover of books, a teacher, and advocate for all friends furry and feathered. I can think of no better combination than that.
For those of you out there going to Ms. Carolyn's shin-dig,
Daddy's Girl's Weekend
on March 11th, you can easily see why I picked these books to celebrate on the blog this week.
DGW
is coming up fast and I couldn't be more thrilled since I'm actually getting to attend! More of this series to come soon :)
Till Then,
Katie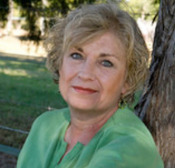 A native of Mississippi, Carolyn Haines lived in southern Alabama on a farm with her horses, dogs and cats. She was recently honored with an Alabama State Council on the Arts literary fellowship for her writing. A former photojournalist, she is active in organizations that rescue animals and promote animal rights. (Carolyn Haines Bio)
For more information on Ms. Carolyn's work visit her website
http://www.carolynhaines.com/
And coming June 25th 2011, the latest Sarah Booth Delaney mystery.
Bones of a Feather