So here we are folks, right smack-dab in the middle of January. Boy where does the time go? Are you making the most of your 2012 blog friends? I don't do resolutions so I won't put the thumbscrews on and ask you about yours. Life is hard enough without putting unrealistic pressure on myself. I thoroughly enjoy goals though. A great goal will take a girl far. I say down with resolutions and up with doing the really cool stuff you want to do! LOL! Life is too dang short for any less.
For me, 2012 has started off beautifully and I'm super thankful for that.

I know I've told you guys about how I decided to take some time off after finishing my latest version of Unwilling. What I haven't told you though is what I've been doing in the down time. Of course, those first few weeks saddled the Christmas holidays and there was the necessary visiting and family fun. In addition to that, I spent the time decompressing from the pressure of finishing a manuscript.
But I thought you lurved writing?
Don't get me wrong, I DO love writing! But that's not really what a revision is. For those who write, you know exactly the kind of skull-cramping pressure the editing process creates. For everyone, else let me explain this experience. For me personally, the mental burden of ripping a manuscript apart and sticking it back together again is something I don't notice until it leaves. The drive to finish is so strong it overshadows the pressure. That doesn't mean it ain't there though.
Sort of like a kidney stone. That sucker hurts like an alien trying to claw its way out, shredding your urethra the whole way. When actually, you aren't aware of just how much pain it's producing until it disappears. To be under a self-inflicted deadline to revise a manuscript creates an intense, single-minded pressure that only increases until I type the last word.

And ding-bat that I am, I forget about that feeling of pressure in the midst of writing everytime.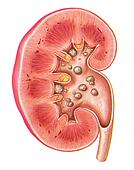 Just in case you don't have
a personal relationship with
a demon from the pits
of hell...I mean...
kidney stone.
The December morning after I finished

Unwilling (or early afternoon if you're getting picky about it) was a mix of want- to-cry-relief and want-to-dance-excitement. See, I'd forgotten about that dang pressure again. Oddly enough, leaving the routine of "book-brain" throws a little kink in the down time too. Took me a few days, but I worked out all the snags.
So back to the vaca stuff. Since the first week of December I've read over twenty novels. Don't get all blustery at me now; they were some of my old favorites I've read at least twice. Nothing new.

I watched several movies I'd been dying to see, caught up on all the episodes of Big Bang Theory and hung out with the Hubs and kids in a sedate state of chill I hadn't experienced since summer.
It been a wonderful mini vacation indeed. After about two weeks though, the idea factory (read: blood curdling nightmares) got cranked up again. I zoned out on plot ideas while Son#2 rattled on about Skylanders for the fiftieth time in a day and found myself waking up at odd hours to jot down notes. All clear indications it's time to get back on the horse. In preparation I cleaned my office, cooked lots of meals to freeze and organized the house. Let's hear it for being prepared! LOL :)
With 2012 well on its way and Uwilling out to readers, a new deadline looms large in the distance. Book Two in the series (tentatively named Unloved) has a revision scheduled to be finished by the end of May. Already there are the beginnings of that feeling of pressure, like a ghost shivering in my gut. At least I hope that's what the feeling is and not a kidney stone.
Have a great weeks folks! Welcome to all our new friends from

Sri Lanka

and

Armenia

. I hope you read something you like and visit again real soon. There are lots of book details on the blog so feel free to explore older posts if you're new.

The blog is around 10 views away from reaching the new high number of 4000. By the next time the blog posts I expect the stat numbers to have crossed the mark and I sincerely thank you guys for your support. Catch you later, and don't forget to treat a book real nice this week.